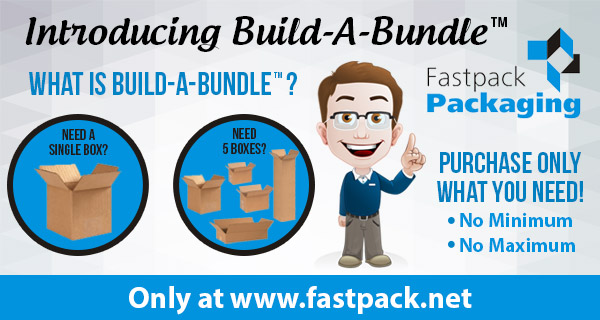 Leading Online Shipping Supplies Company Fastpack Packaging Announces Innovative New "Build-A-Bundle" Service
Creatively answering the needs of their customers, leading online Shipping Supply company Fastpack Packaging has debuted their new "Build-A-Bundle" service allowing purchases to be made with no minimum and no maximum. Shoppers have responded to this unique offer with enthusiasm.
July 22, 2014
The idea of having to order cases of shipping supplies that may not be used in a year's time or even longer is certainly not appealing to many individuals or businesses.Unfortunately, until recently, this was one of the only options available to individuals and small to medium sized businesses who were hoping to get shipping supplies at an affordable price.Stepping up to answer this concern in a unique way that offers real value to customers, is Fastpack Packaging with their new "Build-A-Bundle" service.The service allows customers to put together a bundle of the shipping supplies they need, and only what they need, with no minimum and no maximum order necessary, while still being able to reap the benefits of an attractive price point.The response from new and old customers of the company alike have been wildly enthusiastic.
"Not everyone needs large quantities of the same item or a bundle of 25 boxes in every imaginable size,"commented a spokesperson from Fastpack."We're happy to offer a smart alternative with Build-A-Bundle that can alleviate these kind of unnecessary expenses and help our customers save money by only purchasing what they need!"
In many cases, with items like bubble mailers where other companies will only sell 500 minimum and Fastpack Packaging allows even a single bubble mailer to be added to a Build-A-Bundle, the difference is very dramatic.Not only does this cut expenses, but also for businesses or families with limited space it can also free up room, which would otherwise be taken up by packaging supplies that wouldn't normally be used for a very long time.
The company is also happy to offer full case sales, at an even greater discount for those who DO have a need for larger stock.
Fastpack Packaging are happy to offer the largest selection in the industry for their Build-A-Bundle packages and also the convenience of straight to the door delivery.
Customers have been giving this new service positive feedback across the board.
John M., a long time customer, recently said, "I have had great experience after great experience with Fastpack. Now that I'm using Build A Bundle it's even more convenient for our business.Five solid stars and a full recommendation!"
For more information on the company be sure to visit http://www.fastpack.net.